Nelson's Column being constructed, Trafalgar Square, London, April 1844
Hippo Obaysch taking a nap in the Zoological Gardens in Regent's Park, London, in 1852. He was donated by Egypt in 1850 in exchange for English greyhounds and deerhounds and he lived until 1878.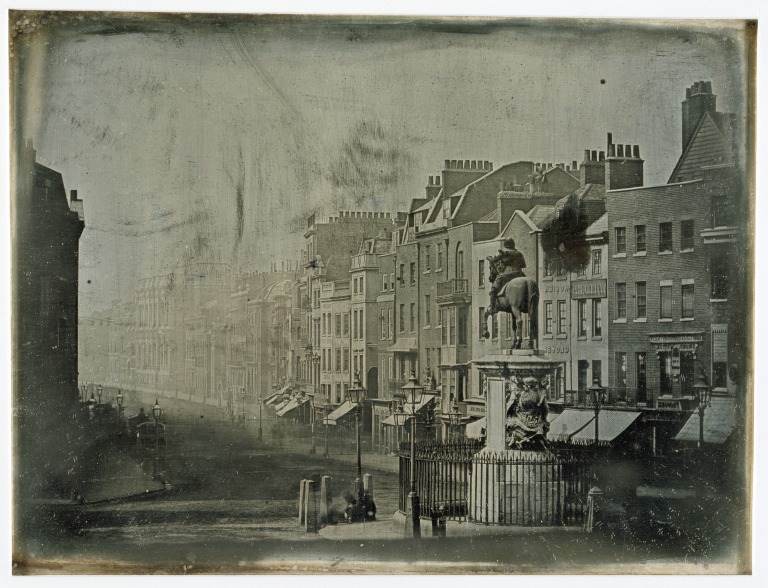 Looking down Parliament Street from the then newish Trafalgar Square, London, 1839. Parliament Street was a side-road alongside the Palace of Whitehall which led to the Houses of Parliament. The present appearance of the street is largely the result of 19th-century redevelopment. King Charles I was beheaded outside the Palace of Whitehall in 1649. It's his statue of 1638 which can be seen in the photo. The statue is still there today. When the Palace of Whitehall was demolished in 1698, Parliament Street was widened to become the street known today as Whitehall, recognised as the centre of Her Majesty's Government. Banqueting House, the part of the Palace of Whitehall outside which Charles I was executed, is the only part which survives today. This 1839 photo, probably the first ever of London, was taken when the Houses of Parliament were being rebuilt following the devastating 1834 fire (below). The fire was popular - Londoners cheered it on and applauded it! If you look carefully, you can see some people in the photo.


Edited by Sixteen String Jack - 16-Apr-2013 at 12:09