Interesting.
Yet we have the problem of datation. Most murals are very dificult to give an accurate date, and normally only contextual archaeological finds help. I think there's a method to date using a tiny scratch of the material with what's been painted, but in this case they seem to be engravings, so it wouldn't work.
There's been much discussion on Iberian (and North African) human depicting post-Paleolithic murals, initially they were believed contemporary of Paleolithic cave art, but nowadas they are thought (quite solidly) to be much more modern, belonging to the Neolithic, Chalcolithic and Bronze ages. Still the exact datation of each of them is near to impossible.
So, in order to give them a datation of -6000, I would require contemporary findings of domestic horse, something that doesn't exist.
Yet, there's some not cleared polemic on wether horse could have been domesticated in Magdalenian times (by Basques, of course,
). The reason is that in Mas d'Azil beautiful carving of horse heads with what seem to be bridles have been found. In the same context, horse skulls with the characteristic deformation of teeth caused by boredom when stabulated have been found. Yet most scholars simply find dificult to believe that horse could have been domesticated in Paleolithic contexts, though it's quite likely that dog was. Myself I don't know what to think.
I've found an article dealing with this:
http://donsmaps.com/tools.html
Some associated images: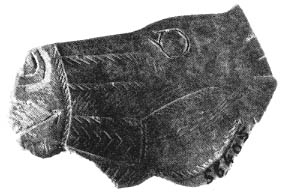 Does it have a bridle?
And this one?
What about these three horseheads?
Mistery remains.