I used to make doll's clothes that represent clothing in different ancient cultures, so along this I did quite a bot of research on history of clothing. So, I thought it would be a good idea to make a thread about it, it's an area that is a picturesque one to write about.
I'll start with Sumeria. The sumerians made their clothes from flax and wool, and used them according to weather.
"...Men were barechested and wore skirt-like garments that tied at the waist. Women usually wore gowns that covered them from their shoulders to their ankles. The right arm and shoulder were left uncovered. Men were either clean shaven or had long hair and beards. Women wore their hair long, but they usually braided it and wrapped it around their heads. When entertaining guests, women would place headdresses in their hair.
Although both rich and poor Sumerians wore the same style of clothing, the wealthier Sumerians wore clothing that was made out of expensive and luxurious materials. Wealthy women and princesses also wore clothing that was colorful and bright...."
http://ablemedia.com/ctcweb/showcase/dlottmesopotamia4.html

Jewelry was worn by man and women alike.
The male clothing is well seen on this sculpture
Female dress and male clothing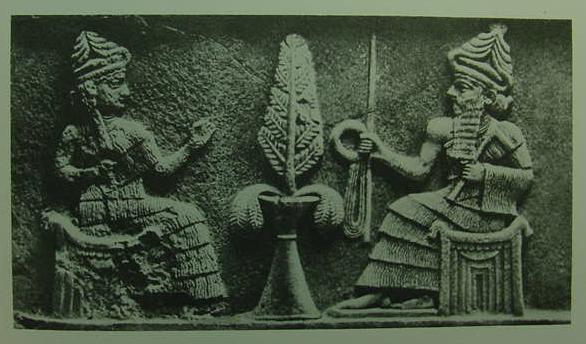 Here a more refined account, date-conscious too:
"...The Sumerian civilization was established before 4000 BC and reached a high level of culture between 2700 and 2350 BC. In early times both sexes wore sheepskin skirts with the skin turned inside and the wool combed into decorative tufts. These wraparound skirts were pinned in place and extended from the waist to the knees or, for more important persons, to the ankles. The upper part of the torso was bare or clothed by another sheepskin cloaking the shoulders. From about 2500 BC a woven woolen fabric replaced the sheepskin, but the tufted effect was retained, either by sewing tufts onto the garment or by weaving loops into the fabric. Named kaunakes by the Greeks, this tufted fabric is shown in all the sculptures and mosaics of the period, as, for example, in the art from the excavations at Ur exhibited in the British Museum in London. At this time, also, long cloaks were worn, and materials for garments and head coverings included felted wool and leather. Men were generally clean-shaven. Both sexes seem to have often worn large wigs, as in ancient Egypt. Metalworking was of a high standard, as may be seen in the elaborate golden jewelry, which was encrusted with semiprecious stones and worn by both sexes: brooches, earrings, hair ornaments, and neck chains....."http://history-world.org/sumeria,%20dress.htm

Male clothing, that shows the "tuffs" the article talks about.



Edited by Don Quixote - 26-Mar-2012 at 01:53