I have made a list of several Indian kings who were famous for their military achievements throughout
the history of India.But what do you think?Who was the greatest warrior king in Indian history?
Chandragupta:
He founded the Maurya Empire in 321 BC and defeated Seleceus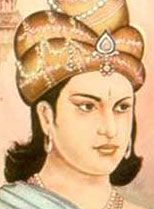 Ashoka:
He unified almost whole India under the Maurya Empire in 300 BC
Kharavela
The king of Kalinga conquered almost whole North and Central India in 200 BC
Samudragupta
The ruler of the Gupta Dynasty is considered to be one of the greatest military geniuses in Indian
history.He expanded the Gupta Dynasty at its zenith in 4.Century
Harsha Vardhana
After the collapse of the Gupta Dynasty He was able to unify whole North India
Bappa Rawal
He defeated the arabs in 738 AD in the famous battle of Rajasthan and protected whole India
Rajendra Chola
He is considered to be the greatest King of the the Chola Empire.
He unified South India and conquered Sri Lanka in 11.Century
Raja Bhoja
He defeated Salar Masud and protected whole India in 11.Century
Prithviraj Chauhan
He is commonly known as the last hindu king of Delhi in 12.Century.Even though he lost the second
battle of Tarain against Muhammad Ghori.He was still able to defeat him in the first battle and he
was generally famous for his military campaigns against several indian kings.
Veera Ballala
He was perhaps the greatest monarch of the Hoysala Dynasty in 13.Century because of his military
successes against several kingdoms.
Rana Kumbha
The king of Mewar never lost a battle against the muslim invaders in 15.Century during his reign.
Sri Krishna Deva Raya
During his rule the Vijayanagara Empire expanded and reached its zenith in 16.Century.
Its said that he never lost a battle during his reign.
Shivaji Chatrapati
The founder of the Maratha Empire won several battles against the Mughals in 17.Century even though
he had a smaller army.
Peshwa Baji Rao
He expanded the Maratha Empire at its zenith in 18.Century.