Known commonly as Killer Whales, Orcas (
Orcinus orca
) are a species of the order
Cetacaea
, (suborder
Odontoceti
- toothed Cetaceans). Closely related to porpoises and dolphins, Orcas are marine mammals, meaning that they possess mammary glands for suckling their young on milk, possess fur (in the case of Orcas, hair follicles on the young), and sweat glands. Of course, in an aquatic environment, hair or fur is ultimately non-streamlined thus requiring more energy expenditure to travel through water, which is viscous.
The typical outward appearance of an Orca is as follows; a rounded and tapering head, conspicuous white eye patches, large rounded 'paddle-shaped' pectoral-fins, a tall dorsal fin (curved in females, erect in males), a whitish underbelly (the rest being black), and horizontal tail flukes. (see images)
Toothed whales differ from baleen whales such as Blue, Minke and Gray whales in that they possess teeth, rather than horny baleen plates with bristles. Consequently, toothed whales such as Orcas are predators rather than microorganism and krill feeders. Lacking a sense of smell, Orcas rely on their keen-ish sense of sight, which lacks most colours, and their good sense of hearing.
The primary sense used in submarine navigation and hunting is "echolocation". This is an Orca's own version of sonar. High frequency clicks and squeals are delivered in a region near the blowhole, behind a large fluid-filled area called the "melon". This directs the sound waves which are sent out to detect prey, obstacles.etc. After bouncing off an object, the waves are received below the jaw and directed into a region towards the rear of the skull. Here the reflected waves are distinguished to determine the presence and location of prey, obstacles, other Orcas.etc.
Echolocation is an invaluable resource in the open ocean where visibility way be limited or prey is spread over an extremely vast range.
Orcas are one of the widest ranging of any animals on earth.
They inhabit all the world's oceans and seas from the Arctic, Atlantic, Mediterranean, Pacific and Indian, to the Southern, Baltic, China and Tasman. Because of such an extensive geographical distribution, the Orca has to endure numerous different environments and as a result, has to specialise in hunting the local prey items.
In Norway, pods (collective noun for a group of Orcas) surround a school of sardines, baitfish or larger fish, and start encircling them from below. Owing to their monumental size, Orcas are not as agile as dolphins, deeming them unable to dash and dart around baitfish encircling them into a ball. However a method used by the Orcas is similarly as effective. By starting at the bottom, several Orcas can swim around the school, releasing a continuous stream of bubbles from their blowholes in the process. As these bubbles rise to the top, they are impenetrable to the fish. By tightening the circle as they rise to the surface, the Orcas squeeze the school into a smaller and smaller ball of prey. When they hit the surface, the fish have no escape and the Orcas gorge on their hard earned meal.
Another well known technique of the Orca is the method of beaching. The Orca is the only
Cetacean
known to fully beach itself in order to catch prey, and then is able to swivel and return to the sea. Seals and Sea Lions are the primary target of this method of hunting. By using channels to get in as close as possible, the Orca can gain speed before launching out of the water onto the shore. The bow wave created enables the Orca to home in on its prey (as echolocation is useless out of water).
By morphing the shape of the lens in its eye, and Orca can see clearly both underwater and when it is on the shore. Failure or success, the Orca must wriggle its way back to the ocean. This is a very difficult and risky technique nevertheless, and youngsters watch for many years before attempting themselves.
Orcas are the top predators in any oceanic environment (except humans) and prey on anything just about. This can range from sardines, salmon and tuna, to seals, king penguins, porpoises, dolphins, great white sharks and blue whales. Packs of Orcas act like wolves in that they maraud large whales, tiring them out after hours of harassment, and eventually go in for the kill. One method used by the Orca to catch penguins on ice flows is to ram the ice flow from underneath, or from the side, unbalancing it. Penguins on top are thrown off balance, some, into the water, and right into the waiting jaws of Orcas.
Orcas are social animals, living in pods of up to around 50. Superpods occur when several pods combine on a mass migration or hunt for migrating fish, numbering up to 150 or 200 individuals. Pods comprise of both males and females, but are matriarchal meaning they are headed by a dominant female. Male and female young remain close to their mothers for several years, but remain in the pod for life (usually, unless the Orca equivalent of "ostracism" happens to one). Strong bonds are continuously reinforced among the pod.
Orcas can weigh up to 10,000 kg (10 tons) and grow to 9 or 10 m. Though typically they range from 4-7 tons, and 5-7 m in length. Orcas are not threatened at this stage, but effort must still be taken to ensure their preservation.
- Knights -
This technique is known as spyhopping, and is done to survey the area for prey around ice flows.
Comparison of a male, female and baby Orca (calf)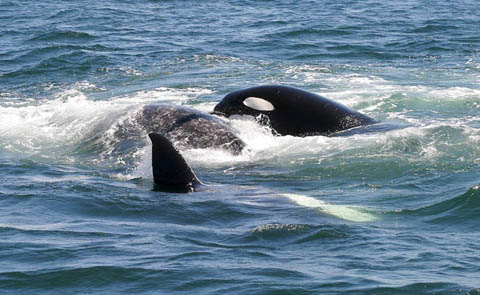 A pod of Orcas attacking what I think is a Gray Whale
And again. Yes I'm sure that is a Gray Whale
Orcas are very intelligent animals, and when they are not hunting or socialising, they play. This may involve breaching (jumping out of the water), bow riding, or playing with debri found on the surface. Specific locations are set aside for playtime and recreation, for example, Vancouver Bay which has a pebbly bed. The whales love to scratch their tummies and backs.
An Orca surveying the beach, picking out an appropriate target. (I'm not sure why the silly sea lions aren't budging...)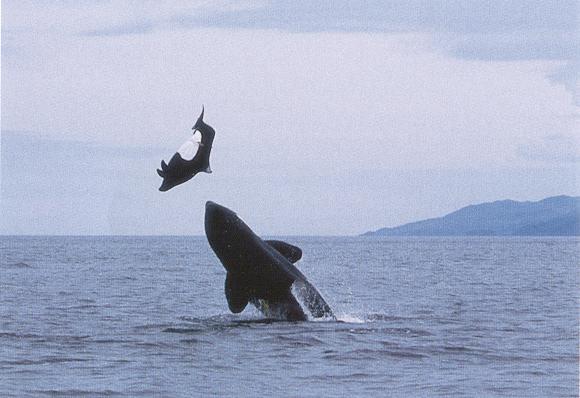 Part of playtime for an Orca. Cruel and Twisted? Maybe. Here is one throwing around what appears to be a Dall's porpoise...
Mum, Dad, Baby
NOTE: Elenos and I got carried away about Orcas on a separate topic, Rider too, so I thought we could discuss these fascinating creatures, here.
Enjoy!
EDIT: And God said, let there be paragraphs! And it was done.


Edited by Knights - 15-Aug-2007 at 04:47