13 Farvardin,
Teer = Arrow, Mercury, The Rain Star day


Sizdah (13) bedar

The thirteenth day of the New Year festival is Sizdah Bedar (meaning "thirteen outdoors"), is a day of festivity in the open, often accompanied by music and dancing. The day is usually spent at family picnics.
The thirteenth day celebrations, Seezdah Bedar, stem from the belief of the ancient Persians that the twelve constellations in the Zodiac controlled the months of the year, and each ruled the earth for a thousand years. At the end of which, the sky and the earth collapsed in chaos. Hence, Nowruz lasts twelve days and the thirteenth day represents the time of chaos when families put order aside and avoid the bad luck associated with the number thirteen by going outdoors and having picnics and parties.
At the end of the celebrations on this day, the sabzeh grown for the Haft Seen (which has symbolically collected all the sickness and bad luck) is thrown into running water to exorcise the demons (divs) from the household. It is also customary for young single women to tie the leaves of the sabzeh before discarding it, so expressing a wish to be married before the next year's Seezdah Bedar.
http://en.wikipedia.org/wiki/Norouz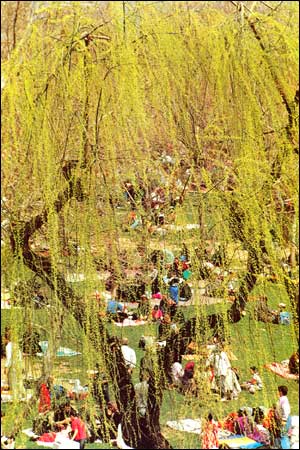 The 13th day of the new year is called "Sizdah Bedar" and spent mostly outdoors. People will leave their homes to go to the parks or local plains for a festive picnic. It is a must to spend Sizdah Bedar in nature. This is called Sizdah Bedar and is the most popular day of the holidays among children because they get to play a lot! Also in this day, people throw the Sabze away, they believe Sabze should not stay in the house after "Sizdah Bedar". Iranians regard 13th day as a bad omen and believe that by going into the fields and parks they avoid misfortunes. It is also believed that unwed girls can wish for a husband by going into the fields and tying a knot between green shoots, symbolizing a marital bond.

http://iranchamber.com/culture/articles/norooz_iranian_new_y ear.php
I add one more, Same as 1 april fool, we have it on this day & called as Dorogh 13 (lie of 13)
I don't know which of them is older & main one, does anyone know about it??