Monuments of Rome

Printed From: History Community ~ All Empires
Category: General History
Forum Name: Historical Pictures Gallery
Forum Discription: Post and discuss images of historical places, arts and maps...
URL: http://www.allempires.com/forum/forum_posts.asp?TID=2476
Printed Date: 02-Jul-2022 at 17:05
Software Version: Web Wiz Forums 9.56a - http://www.webwizforums.com


Topic: Monuments of Rome
---
Posted By: eaglecap
Subject: Monuments of Rome
Date Posted: 13-Mar-2005 at 15:33
---
This one really caught my eye! Can anyone please tell me more about it!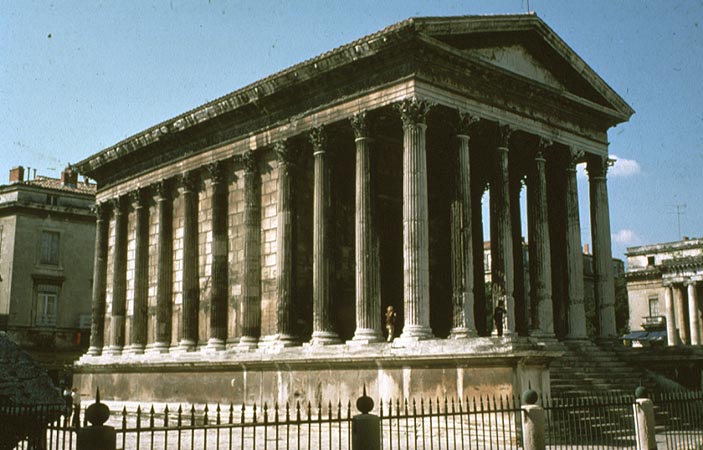 ---
Replies:
---
Posted By: Qnzkid711
Date Posted: 13-Mar-2005 at 21:25
---
In Rome Total War their called Awesome Temples of *then the god*. I think its called a Parthenon though




-------------
"Europe and Asia are finally mine. Woe to Chritendom. She has lost her sword and shield."
Ottoman Sultan after hearing of the death of Skenderbeg.
---
Posted By: Imperator Invictus
Date Posted: 13-Mar-2005 at 21:57
---
That's called the Maison Caree in France.

Parthenon is a greek temple. Greek temples were different from Roman temples.


-------------

---
Posted By: eaglecap
Date Posted: 15-Mar-2005 at 01:34
---

n Maison Carree Commentary

"This civic Roman temple was built by Agrippa, who died in 12 B.C. It was then dedicated to his two sons, Caius and Lucius, heirs of Augustus who both died very young. It shows the allegiance and loyalty of the Roman colony to the imperial dynasty. It stands on the short south side of the forum, which it dominates resting on a podium which is nearly 3 metres (10 feet) high. It was built of local limestone, but without a doubt the architect and workmen came from Rome. The source of the frieze with its acanthus scrolls is the Ara Pacis in Rome, which is the best preserved example of Augustan classicism. The ratio of short to long sides approaches 1:2 (6:11 columns), and the portico takes up almost a third of the total length."

— John Julius Norwich. The World Atlas of Architecture. p163.

"It represents the ultimate of Graeco-Etruscan design interpreted in monumtental Augustan architecture, correct in the canons of design and incorporating a rich, well-detailed Corinthian order. It is raised on a podium 3.66m (12ft) high, with steps only on the entrance (west) facade, and it is psuedo-peripteral hexastyle."

— Sir Banister Fletcher. Sir Banister Fletcher's A History of Architecture, 17th edition, p276.

---