Marimba: a global odyssey
One of the traditions of people of Yucatan and Central America is to play the Marimba.
Mayans enjoy to play theirs sweet traditional musics on them.
http://en.wikipedia.org/wiki/Image:GuatemalanMarimbaGourds.JPG
It is clear they like that music. What it isn't so clear, though, is from where that instrument came from.
The term marimba is also applied to various traditional folk instruments, the precursors of which may have developed independently in West Africa (the balafon) and in Pre-Columbian Mesoamerica.
That's the thesis commonly accepted. However there are thinks that make us wonder.
Pre-contact Marimbas.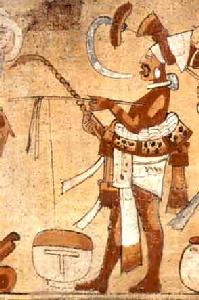 Native percusion instrument similar tthere are pictures in Mayans and Aztec arts showing them.
The Mexicans knew the Marimba BEFORE contact. It was called Tunkul.
A study of the Mayan musical instruments:
A study on the Marimba.
http://www.tilingolingo.com/marim2-s.htm
However, specialists believe the Amerindian marimba was replaced with the African version after contact.
African xilophones
Africans have several forms of Marimbas. Curiosly, Mozambique has a tradition of them as well as Ghana.
The tradition of the gourd-resonated and equal-ratio heptatonic-tuned Timbila of Mozambique is particularly well-developed, and is typically played in large ensembles in coordination with a choreographed dancing performance, such as those depicting a historical dramatization. Traditional marimba bands are especially popular in Guatemala, where they are the national symbol of culture, but are also found in El Salvador, Costa Rica, Nicaragua and parts of the highlands of southern Mexico, as well as among Afro-Ecuadorians; gyil duets are the traditional music of Dagara funerals in Ghana.
Mandinka marimba.
http://www.phantomvoyagers.com/mandinkaXYLO.gif
Now if we see the map, Mozambique is at the Indian ocean just across Madagascar. What special about Madagascar? Well, it was colonized by Indonesians circa the year 1 A.D.
And Indonesians love marimbas.
Examples of South East Asian and African Marimbas are these.
Cambodian
Thailand

Thesis
The marimba is a complex instrument and theirs forms are almost identical in Indonesia, Africa and the Americas.
Coincidence? Parallel development? It doesn't seem to be the case this time. The most ancient instruments that are documented in stone carvings in temples, though,
comes from South East Asia.Which seem to be the origin.
What to make of all this.
Well, there is a possibility that events happened like these, and certain scholars, particularly musicians, are the following:
(1) The Marimba originated in South East Asia.
(2) It was carried to Madagascar by the Indonesian sailors that colonized that island circa 1. A.D.
(3) From there influenced Mozambique, where become a local tradition.
(4) Crossing all Central Asia through ancient paths of commerce that are today unknown, the Marimba reached Ghana, somewhere between the 1st millenium A.D. and the 15th century.
(5) The instrument was carried to the America either by the slaves or Jesuit missioners
(6) Mayans and other Central Americans replaced theirs tradtional marimbas by these more advanced instruments from overseas.
It is true?
It is not certain and a lot of research has to be done as yet. But if it is true is the more amazing example of the diffusion of an idea we know.
A real odyssey.
Pinguin



Edited by pinguin - 24-Aug-2007 at 12:34