On
September 4, 476
the West-Roman Empire came to an end, when its Emperor Romulus Augustulus abdicated.
Unlike the East-Roman Empire that lasted for another thousand turbulent years and went out with a bang in 1453, the Western just faded away, slowly and quietly; and itĺs last Emperor didnĺt die the heroic death of the last Byzantine Emperor Constantine XI Dragases who died on the walls of Constantinople defending his city against the Ottomans, Romulus just retired to his estates near Naples to dedicate the rest of his life to the breeding of chicken. His nickname, Romulus the ôtiny Augustusö already suggests that the last West-Roman Emperor was not a towering giant in Roman history. Throughout his undistinguished twelve month rule, he had been nothing more than a puppet of his father, Orestes, who had pushed his fourteen year old son onto the throne.
Orestes was the half Germanic magister militum of the Empire, and thus in command of the barbarian mercenaries that in the 5th century not only were the sole military force, but also most significant political power in Italy.
His predecessors , men like Stilicho, Ricimer or Gundobad, had virtually ruled the West-Roman Empire, and in rapid succession gone through a whole number of stooges on the throne, appointed and dismissed by whim, that only bore the title ôemperorö in name, in practice however wielded no Imperial power whatsoever.
Orestes had filled the vacuum that Gundobad had left who had returned home to rule his Burgundians, when in 475 he was appointed leader of the Imperial forces by the reigning Emperor Julius Nepus, who graced the throne courtesy to an intervention by the East-Romans. Julius Nepos came to regret his choice almost immediately when Orestes mercenaries rose in a revolt and forced the Emperor to flee Italy to seek safety in his native Dalmatia where he stayed put and ruled, still the ôde factoö West-Roman Emperor till 480.
Orestes, possibly due to his half-barbarian origins wasnĺt deemed suitable for the throne, and so his son Romulus was chosen to head the family enterprise. Unfortunately, Orestes own troops now wanted a greater share of Italyĺs riches and they demanded not only land, but also to be given ôFoederatiö status in Italy. Orestes refused and his troops acclaimed Odoacer as their new leader. Odoacerĺs forces captured and murdered Orestes near Piacenza on August 28 took the capital Ravenna a few days later, and on September 4 Odoacer forced Romulus Augustulus to abdicate.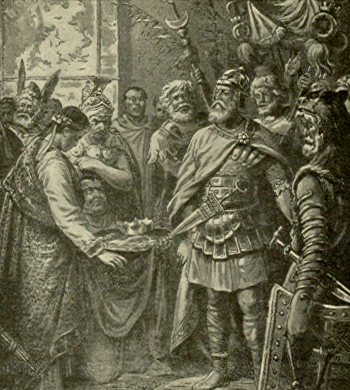 The Abdication of Romulus Agustulus
, as seen in a German 19th century lithography.No guarantee of authenticity.
Odoacer was acclaimed ôKing of Italyö by his men and thus didnĺt think it necessary to appoint a new Emperor. It says a lot about Romulusĺ status, that Orestes didnĺt even deem him important enough to have him killed, and though the last West-Roman Emperor left historyĺs stage quietly through a back door, much like the whole Empire itself. It must be doubted than anyone in Italy or in the old Roman provinces in Western-Europe noticed this historical event, or indeed mourned the Empireĺs demise. Augustulusĺ abdication just ended the farce that the West-Roman Empire had been in its last century, and finally acknowledged the fact that in the West the Roman world was now ruled by barbarian chieftains. The East-Romans continued as normal, in their self-understanding Constantinople, the ôNew Romeö, was the only worthy and legitimate heir of the Roman Empire anyway, and when they briefly regained the sovereignty over Italy fifty years later, Italy just became a province of their Empire.
The Roman world in 476 AD
What else happened on this day?
1886
The Apache leader Geronimo surrendered to General Nelson A. Miles at Skeleton Canyon, Ariz. This ended the last major US-Indian war.
1870
During the Franco-German War of 1870/71 Emperor Napoleon III, nephew of Napoleon Bonaparte, is deposed after been captured by German troops and the Third Republic declared by France.
Full list:
Wikipedia